Commercial Real Estate Outlook 2022
Lending Expected Hold Steady Higher Rates Economic Uncertainty
Even with higher interest rates being driven by the Fed almost on a monthly basis, commercial lending is expected to hold steady for the rest of 2022
MBA anticipates almost $950 billion of total commercial real estate lending in 2023.
$ in billions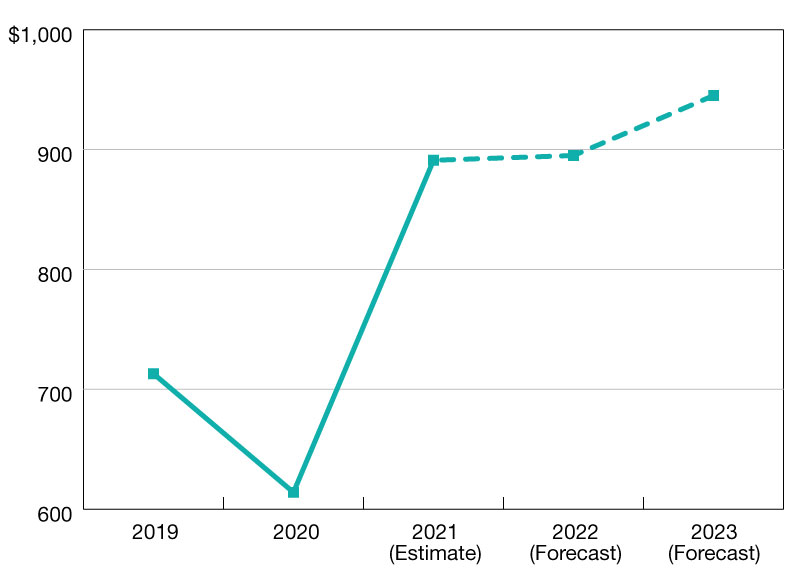 We have learned in recent years just how quickly global developments can alter commercial real estate markets and lending activity.
The economic and interest rate outlook has shifted since MBA's last updated commercial real estate finance (CREF) forecast in February. The rapid rise in interest rates is expected to take some wind out of the sails of new lending activity, but healthy property fundamentals and strong property values should support the markets and keep commercial real estate mortgage demand at strong levels. Borrowing and lending should still match last year's record levels.
Total mortgage borrowing and lending is expected to hold steady at a projected $895 billion of total lending in 2022, roughly in line with 2021 totals ($891 billion).
MBA anticipates borrowing and lending to grow in 2023, with almost $950 billion of total commercial real estate lending.
MBA's commercial/multifamily members can download a copy of MBA's latest Commercial/Multifamily Real Estate Finance Forecast at www.mba.org/crefresearch.
---
Jamie Woodwell is the Mortgage Bankers Association's vice president of commercial real estate research.